Our CSR policy at Powertec
Since our foundation in 2008, we at Powertec have taken our approach to Corporate Social Responsibility (CSR) to heart. Every year, we strive to make our company more respectful of the environment.
CSR represents Powertec's commitment to taking social, environmental and economic concerns into account in our activities and in our interactions with all our stakeholders. In other words, our CSR approach is an expression of our responsibility towards society and the environment in which we operate.
Towards innovative and increasingly sustainable packaging

In cartonette from 2010_2015

A blister pack behind the 2014-2018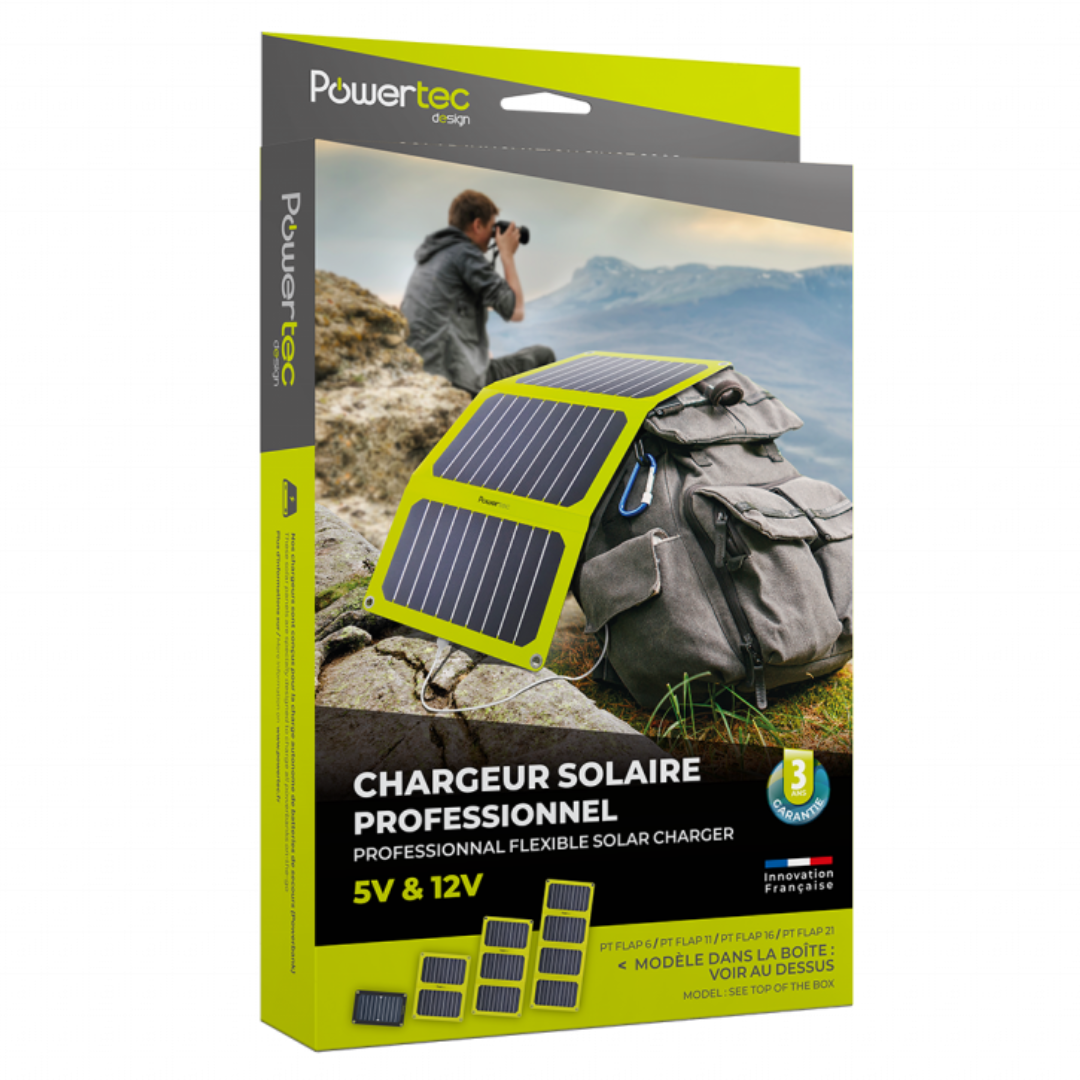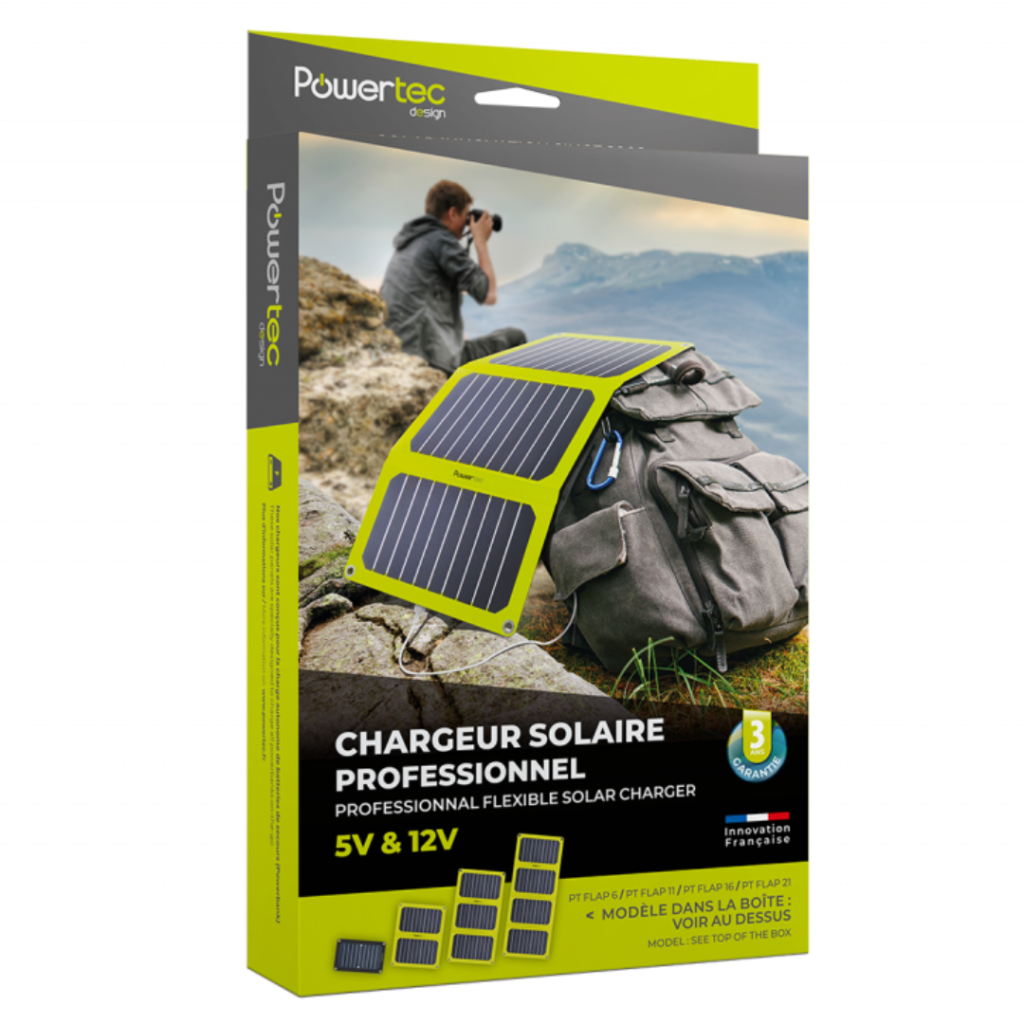 In recycled cardboard packaging (unique) with vegetable-based ink from 2018-2022
From cardboard packaging to upcycled nylon
In 2023, we took advantage of the launch of our new range of portable solar chargers to eliminate all cardboard + paper packaging from our confections.
This required a great deal of upstream work to convince retailers in the market (who are used to receiving packaging that is "highly protected" against theft).
Then we had to find the right new packaging… it was right in front of our eyes during all our years of participation in outdoor trade shows… The perfect upcycled bag, resistant, unbreakable, water-repellent etc. etc…
The panel's protective travel bag would become its reusable packaging.
This was followed by a long process of personalization, printing and so on.
First of all, the panel was personalized and printed, so that all the product's characteristics could be entered directly on its rear face!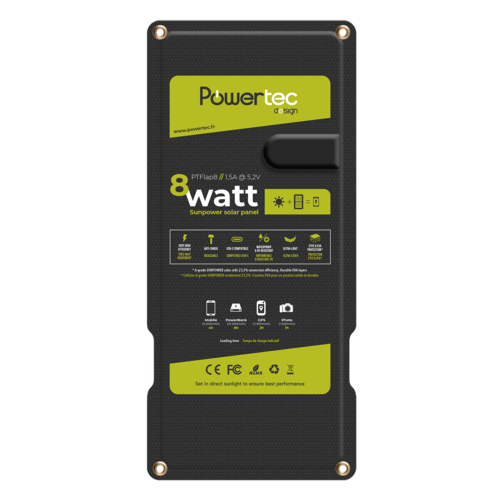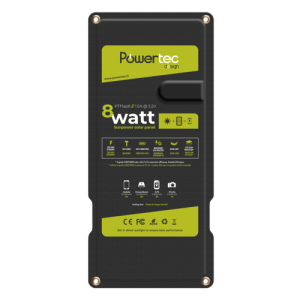 Then we had to find the right new packaging… it was right in front of our eyes during all our years of participation in outdoor shows…
The perfect upcycled bag, resistant, unbreakable, water-repellent etc. etc…
The panel's protective travel bag was to become its reusable packaging.
The result seems obvious, and customer feedback is unanimous!
What a pleasure for Team Powertec …
Innovative operating instructions

With the digital age and the widespread use of QR codes (thanks Covid!), we've replaced traditional user manuals with a QR code on the back of every bag. By scanning it, our customers are redirected to our dedicated platform where they can find all the necessary information in FR and UK, followed by other languages if required…about the product, including FAQs, explanatory videos, and much more.

It's an innovative and environmentally-friendly way of providing our customers with all the information they need, without resorting to paper. What's more, it gives them quick and easy access to assistance when they need it.
Supporting our reseller partners
For over five years, we've been helping our resellers by supplying them with ammeters to check the operation of solar panels in the event of suspected breakdowns or customer returns. By avoiding unnecessary returns between sales outlets and the Powertec workshop, we save carbon footprints and a lot of time!
Our fight against the disposable culture
We take our share of responsibility for the disposable culture, by favoring clean materials and eliminating unnecessary plastics, packaging and paper.
Reducing our carbon footprint: our main objective
Since the very first day of Powertec's creation, the environment has always been at the heart of our concerns.
Assuming that the average weight of a product with its packaging was 0.5 kg, we would have generated 75 tonnes of waste in 15 years by selling 10,000 products a year.
By eliminating unnecessary packaging today, we will reduce this volume of waste considerably, helping to reduce pollution and conserve natural resources.
These changes reflect our strong commitment to CSR and sustainability.
At Powertec, we firmly believe that every action, no matter how small, can have a significant impact.
We would like to take this opportunity to thank all our partners and reseller customers who have believed in this evolution and agreed to sell our products without plastic blister packs, to better preserve Mother Nature!

Lighting up the Pamir mountains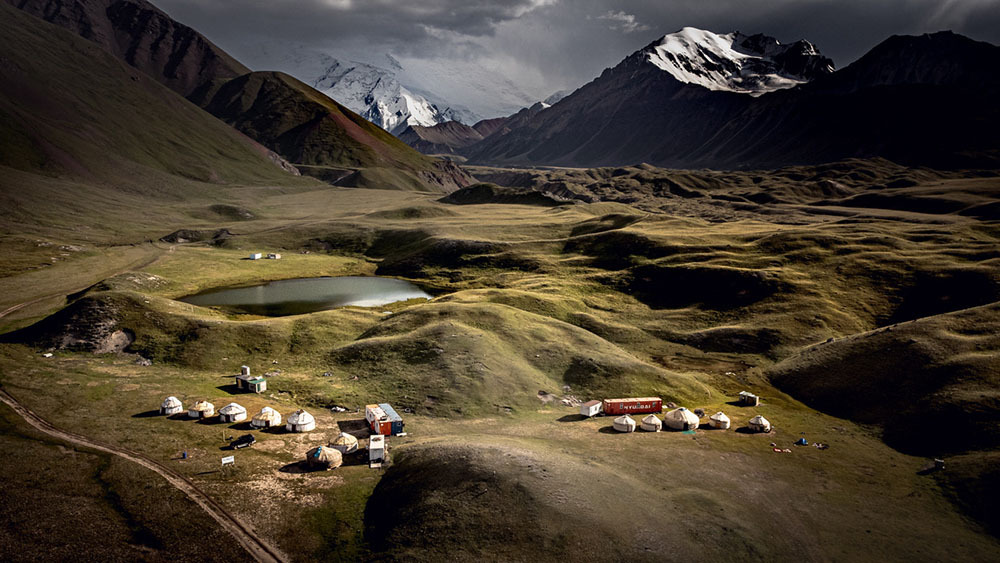 Tajikistan, a former USSR republic in Central Asia, is one of the world's poorest countries. Despite its economic challenges, its natural beauty is breathtaking, with an average altitude of 3,200 meters and the Pamir, an impressive mountain range in the east of the country.
Our CSR approach in Tajikistan
Faced with the precarious energy situation in certain regions, Powertec decided to join forces with its Ambassador @cedrictassan's project to also act in favor of societal responsibility. Inspired by local initiatives, he has come up with a project to build + equip yurt camps in the geographical sites of Yashikul and Skahkdara.
When Cédric presented his project to us, it seemed like the obvious thing to do.
By electrifying the yurt camps, we were giving meaning to the very essence of Powertec and its CSR commitment.
The Yurt Illumination Project
Between 2023 and 2024, these two camps will each house 5 dormitory yurts and 1 mess tent, all powered by solar energy. In addition to bringing light to the inhabitants of these yurts, our project also aims to demonstrate the feasibility and effectiveness of solar energy in difficult conditions.

This project reflects our commitment to using our technology to improve the lives of local communities. We firmly believe that everyone deserves access to clean energy, no matter where they are. At Powertec, we are proud to contribute to the development of a more sustainable future.
By supporting this project, you're not only helping to light up the mountains of Pamir, but also bringing hope to those who need it most. Join us in our mission for a more environmentally-friendly future. Click here
Towards a sustainable future with Powertec's CSR approach
Let's continue together to build a more sustainable future. Our CSR approach is the foundation of this commitment to an environmentally friendly future. Conscious of our social and environmental responsibilities, we strive to constantly improve our processes and products to minimize our impact.
Join us in our mission for a more sustainable and environmentally friendly future. Together, we can make a difference.
Powertec
In Sun We Trust!