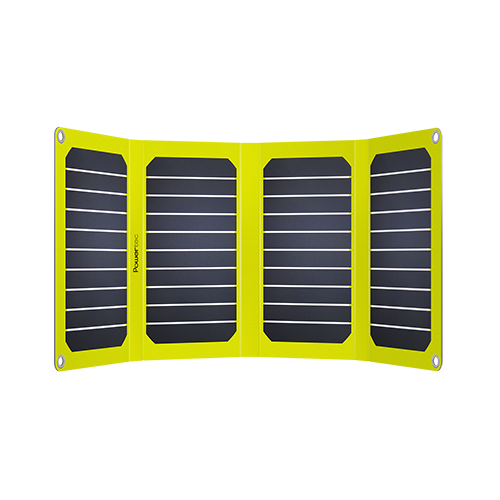 Very high efficiency Charges all your devices

Unbreakable
Ultra-high impact resistance

3 years warranty
High level of quality

Water resistant
Ideal in all conditions
"The gear for adventure professionals."
Since 2008 , Powertec Design designs efficient and durable mobile solar chargers . Water resistant, unbreakable and ultralight our range of portable solar panels is ideal for all outdoor sports (sailing, trekking, bike packing, hiking, paddle, canoeing) or trips around the globe .
The wide 5/12 V range with USB port or Jack (DC5521) and female cigarette lighter will allow you to charge all your devices in record time. portable electronic devices of the smallest (iPhone, smartphone, GPS, front) or larger (solar charge of drone, camera, boombox) according to your energy needs and the duration of your urban or outdoor trips.
Two major innovations on our latest collection.
On the electronics
Our panels are now equipped with an auto-restart function in order to restart the charge in case of voltage drop (cloudy passage).
We have also integrated LEDs that indicate if your panel is taking the light correctly and providing the maximum charge.
Meaning of the PTFlap Powertec series LEDs
The leds allow you to check that your panel is providing electricity (morning / evening / cloudy skies):
Illumination of the right LED

in red

: the panel produces electricity.
Optimize your exposure to the sun:
–

Blue

/

Purple

: it provides between 50 and 75% of
– Green : it generates the maximum
On production: ETFE protection + double EVA lamination
Allows more light to be captured and increases absorption by 5%.
Non-adhesive, stain-resistant surface for easy cleaning
Ultra light, UV resistant and long lasting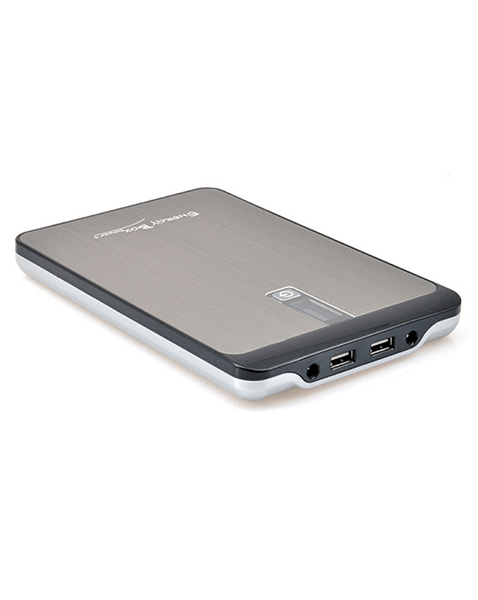 The use of SunPower© cells considerably increases efficiency while maintaining an unmatched power-to-weight ratio.
For the extreme adventurer
Ideal for daily outdoor use, trekking or travel, these unbreakable portable solar panels use very high efficiency semi-flexible solar cells . They charge most devices equipped with a USB cable in a few hours: iPhone®, Smartphones, Satellite TV, GPS, USB Drones, Camsport, outdoor Boombox, etc. Powertec panels have been supporting professionals and nomad adventurers since 2008.
Very high performance
Ultra-light
Water resistant
Unbreakable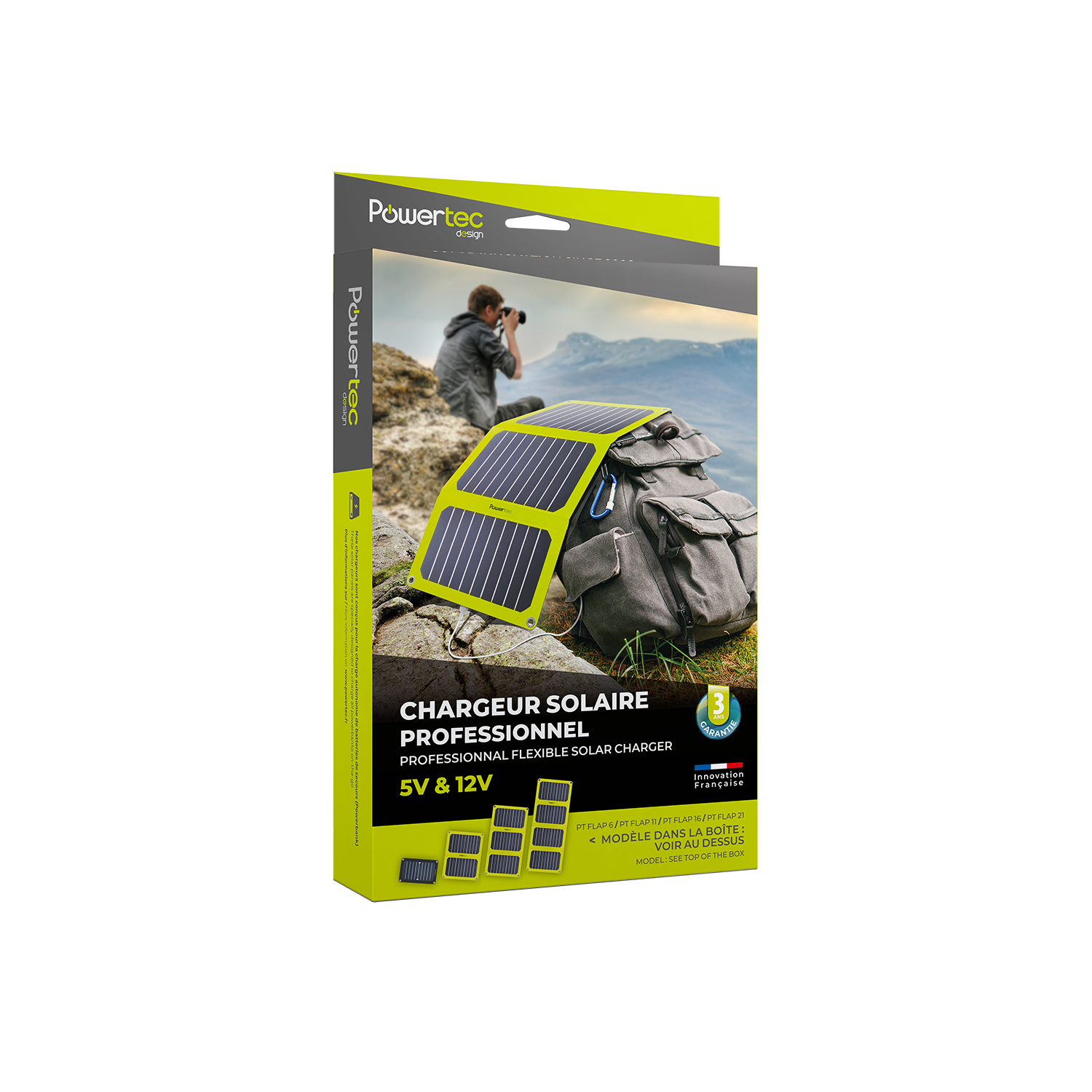 Panel delivered in recyclable packaging
Surface made of ETFE, a resistant polymer with high light transmission
Panel integrating a 5V regulator integrated to the electronics on the USB port
MPPT (Maximum Power Point Tracking) technology integrated on Dual Output (5V/12V)
In an effort to demonstrate its "green conscience", Powertec has redesigned the packaging blisters for its portable solar panels. How to get rid of those plastic blisters?
To answer this topical question, the company has designed a "smart" cardboard box made of PEFC paper and printed with vegetable ink identifying each product and allowing it to be hung on the shelf. This generates production savings thanks to a reduction in the number of materials, a reduction in weight during transport and the elimination of plastic. This means 65% less paper consumption and 60% less water, energy and fuel consumption. So much for the ecological impact.
In 2012, when Powertec launched its new range of compact but heavier products, it could no longer use these eco-friendly but fragile cartons.
Then came the idea of the reusable packaging: a PVC bag that by cutting the hook allowing to hang it in the shelves of our retailers would be used throughout the life of the product (and our panels are made to last very long) to keep and protect all the nomadic load elements…
When we want, we can and when we can we want!