If there is one expectation of many mobile workers, it is to be able to charge their Mac in full autonomy and at the heart of the journey.
This breed of laptop is quite special. Just like its cousins the iPod, Iphone or iPad Apple has always been quite complicated to recharge because of
their own connectivity
energy-consuming characteristics or batteries powerful enough to provide sufficient autonomy
So the challenge has always been great, but Powertec's engineers have succeeded in a tour de force by relying on the new USB PD technology.
The USB Type-C PD, the solution to charge a Mac in comfort
Indeed, this new connection allows to provide an energy and a power such as we manage to recharge the MacBook type MacBook Air, MacBook Pro 45W 60W 85W and sizes ranging from 12, 13 to 15 inches.
Powertec's latest battery, the PT111 / USB Type C PD has this port to optimize charging power to Macs that usually use 20V and 100W mains chargers. Weighing only 790g, it will be perfect to accompany you on all your travels and trips.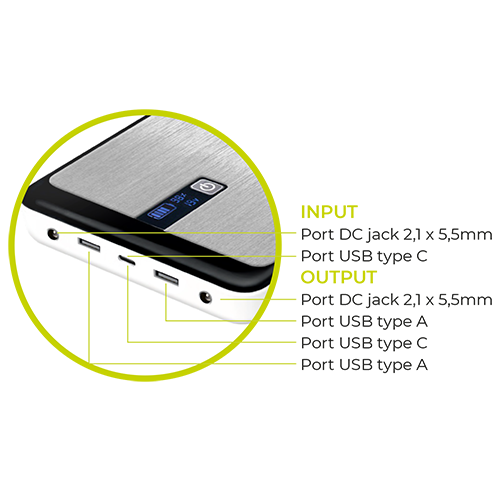 Using a USB-C to Magsafe 2 cable that will be plugged into the USB-C PD port of the latest PT111 battery, the trick is done…
But then you will say to me? How to connect this battery if not to the mains?
That's where the latest innovation of Powertec PT Flap solar chargers comes in:
the PT21 – USB Type C.
Once again, the neat electronics of this 600g solar panel allows for innovation by offering, as standard, a triple output that features a 2.4A USB port, a 3A USB-C port and a DC5521 port for 12/15V connection to a cigarette lighter or other DC wiring.
By connecting the Type-C port directly to the Type-C port of the PT111 battery, we get a fast and adapted charge so that we can charge everything on the other 3 available ports…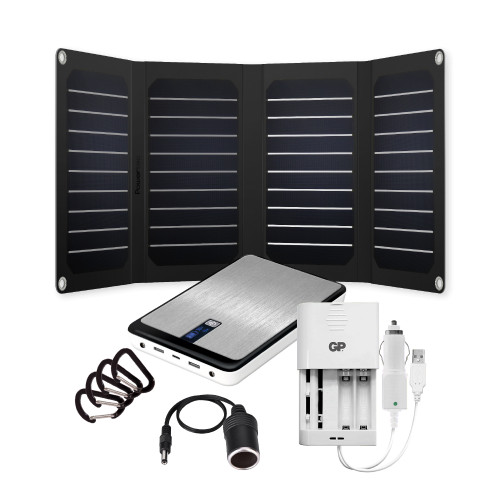 All you have to do is go to the desert, the mountains or the Arctic, as the adventurers we accompany on their expeditions do, thanks to this autonomous solar energy kit capable of charging everything, in the hottest as well as the coldest temperatures… as long as there is light!
In Sun We Trust !