Never run out of battery with the Powerbank.
At the end of the day, your smartphone often runs out of power and you don't have the possibility to recharge it? Are you panicking at the thought of your cell phone going off? Or, can you no longer work on your new project because your laptop has run out of power? Then the backup battery is perfect for you. It does more than charge your iPhone or PC, it can fill the battery of almost any device with a USB port. Be careful, this is not about buying just any.
With this guide, you will find the right external battery for your needs.
Choose your power bank according to the device;
For the smartphone
Typically, smartphones have a battery capacity of between 1,000 and 3,000 mAh, depending on the brand. In order to fully charge your mobile (iPhone 6/7/8), you can opt for a 2,500 mAh Powerbank. However, you should be aware that on some phones (iPhone 10, Galaxy S8 etc), you will instead use a backup battery of 5000 mAh or more. But, do you want to charge your mobile more than once, especially when you are camping or hiking over several days? So now you can buy an external battery with a capacity of 10,000 to 15,000 mAh.
For the tablet, the power of tablets relates to the generation. Those of the latest generation consume more. But, in general, their capacity is between 5,000 and 10,000 mAh.
We recommend that you use a battery charger with a capacity of 10,000 to 15,000 mAh in order to charge your device completely or even several times depending on the model.
For PC computer
Do you want to charge your PC once or twice?
Opt for a 15,000 mAh USB-C external power bank battery.
However, if your computer consumes a lot of power or you are going to be unable to charge it for a long time, then choose a Powerbank with a capacity of above 20,000 mAh.
Please note that the voltage (voltage) of your PC battery and that of the nomadic battery must be identical.
In addition, the amperage (current) written to your computer's battery will be the same as an external battery, at the risk of overheating or slowing recharging. Take a good look at what is written on your PC charger. But also, check the compatibility of the connectors of the portable battery with your computer, in particular the diameter. For several devices at the same time Are you hiking or camping for several days and you don't have a way to charge all your everyday or outdoor devices?
So prefer a power bank with large capacity, from 20,000 to 30,000 mAh and several USB ports. In reality, it depends on your needs and especially the power of your devices. Please note that the 30,000 mAh external battery may take time to charge your mobile.
Small tip, there are also portable batteries, very practical, that can be powered by solar energy.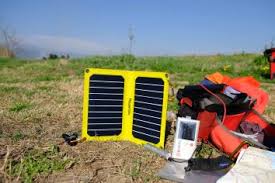 Buy a backup battery, a choice of different capacities.
You can also choose your portable charger according to its capacity. Each portable battery has its own capacity of up to 50,000 mAh. The higher the powerbank capacity , the more energy it stores and can charge multiple devices simultaneously with at least two to three USB ports or equipment many times. Also be aware that the external battery does not discharge all of its accumulated energy, as it needs it to function. But also, due to a loss of energy. Therefore, always choose a Powerbank with a capacity greater than that of the battery of the device (s) to be recharged.
Chose you outdoor battery according to its charging time
The charging time of your portable battery depends on its model and capacity, but it is usually around 2-6 hours.
For charging the external battery charger, the input power can be 5V / 1A, 2A or 3A with USB-C.
In order to optimize the charging of your power bank as much as possible, prefer the use of an AC adapter with quick charge functions. Indeed, when you connect your portable battery to your computer USB port, the charge is slowed down, because your PC  supplies less.
The charging time of your daily or outdoor devices comes from several factors: the power of your accessories, the quality and type of output of your external power bank battery. Your portable charger has two types of output: • 5V / 1A: to charge mobile phones and many other devices, • 5V / 2A: to charge your tablet.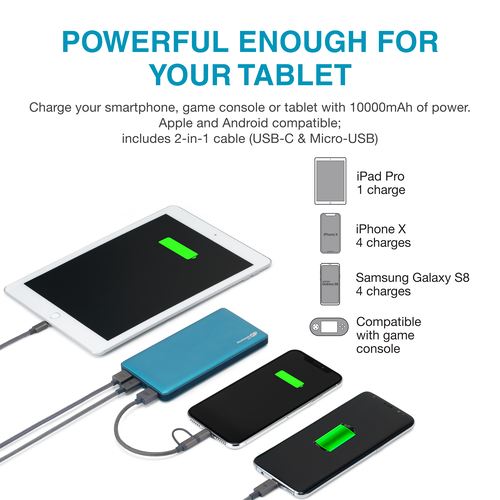 The intensity of the USB port is measured in amps (1A or 2A) and will be decisive for the charging speed. If you are using high amperage, then charging will be faster.
Warning, check the information on the original battery of your device, because the intensity of the portable battery must be the same as that written on the battery of your equipment. Otherwise, there is a risk of overheating. Our advice for faster charging is to use a battery charger from the same brand as your device. A portable charger, various weights and dimensions You have surely noticed in the store or e-commerce store, there are different sizes of battery charger and therefore different weights.
Usually a 15,000mah power bank weighs around 300g.
The 30,000 mAh one weighs about 0,5 kg.
The smaller the battery, the less heavy it is and the less it charges. To charge your phone only once or twice, opt for a small power bank that you can easily slip into your bag.
Buying a nomadic battery, a question of ports
Do you only have one device to charge? So buy a battery charger with only one USB port. Do you have several devices to charge at the same time? Prefer a backup battery with the same number of devices to charge. Simple, right? You should know that if you go for a 15,000mAh power bank with 3 USB ports, it will divide the max power per port.
Find quality backup batteries on Powertec.